Agility without limits
Adapt and innovate with the only portfolio of business applications that empowers your organization
to deliver operational excellence and delight every customer.
Dynamics 365 Sales enables salespeople to build strong relationships with their customers, take actions based on insights, and close sales faster. Use Dynamics 365 Sales to keep track of your accounts and contacts, nurture your sales from lead to order, and create sales collateral. It also lets you create marketing lists and campaigns, and even follow service cases associated with specific accounts or opportunities:

Follow guided business processes, so you know which steps to take next to close deals faster.
Manage customers and deals wherever you are, on any device.
Dynamics 365 Sales is tightly integrated with other Microsoft 365 apps.
Use SharePoint out of box integration to store and view documents.
Get actionable insights and suggestions based on how you work. Relationship Assistant will send a reminder to connect with your customers.
Find all activities (appointments, phone calls, and so on) related to a customer or opportunity in one central place.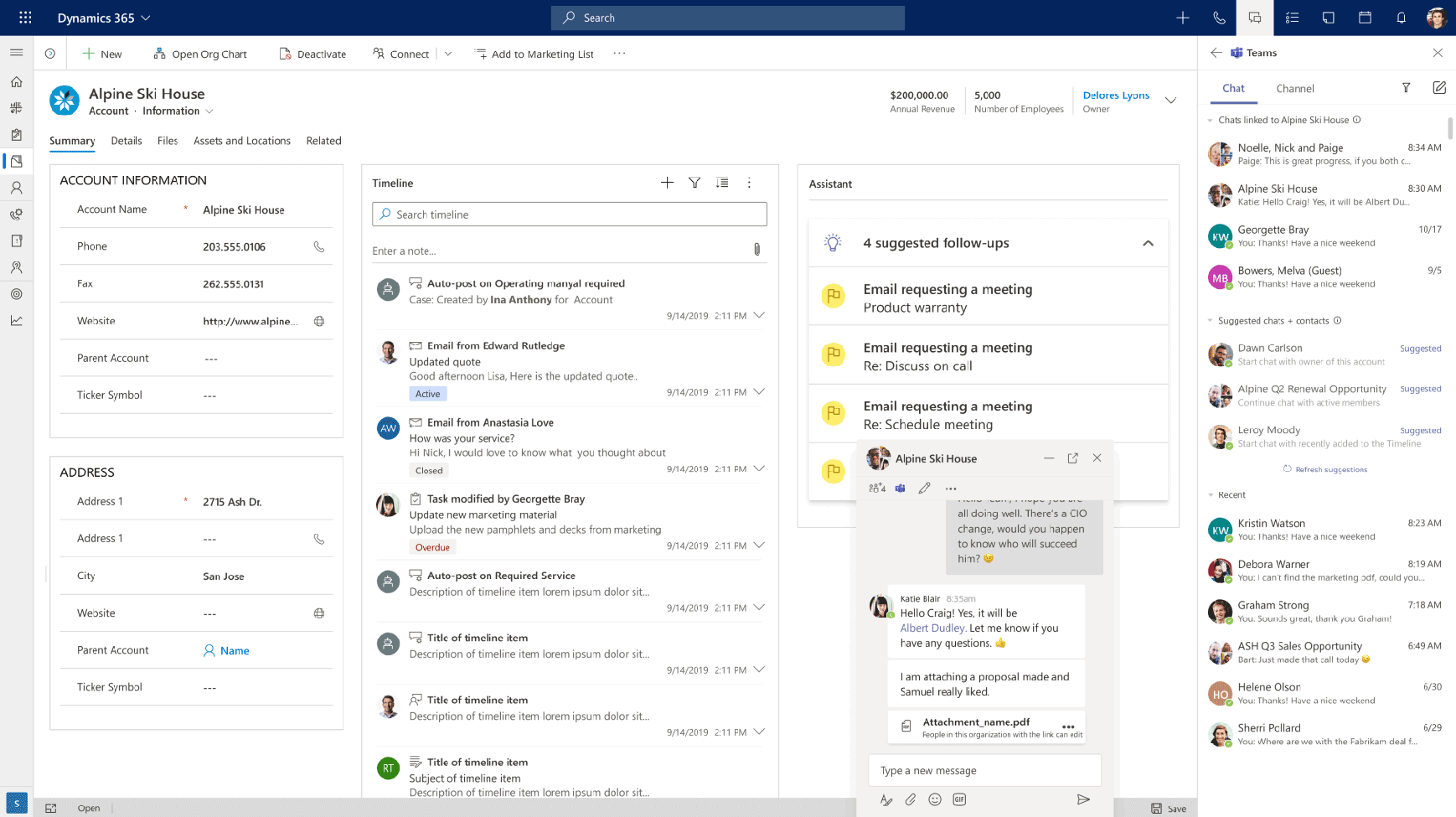 Help sellers sell and buyers buy
Bring together the entire sales team to facilitate the buyer journey.
Dynamics 365 Marketing is a marketing automation application that helps turn prospects into business relationships. The app is easy to use, works seamlessly with Dynamics 365 Sales, and has built-in business intelligence.

Create graphical drag-and-drop
email messages and online content Customizable templates, emails and landing pages amplify your digital voice.
Design interactive customer journeys
to nurture leads with personalized experiences. Drag-and-drop journey designer to create an automated, multi-channel campaign that sends personalized email messages.
Share information across teams
Share information about leads and contacts across your business, and understand how every interaction affects your results.
Know your leads better Develop a deeper understanding of your market with a 360-degree view of every lead and customer.
Make survey results more actionable Easy-to-create surveys help you gather actionable feedback from customers. Understand individual customer needs and expectations so you can grow relationships and revenue.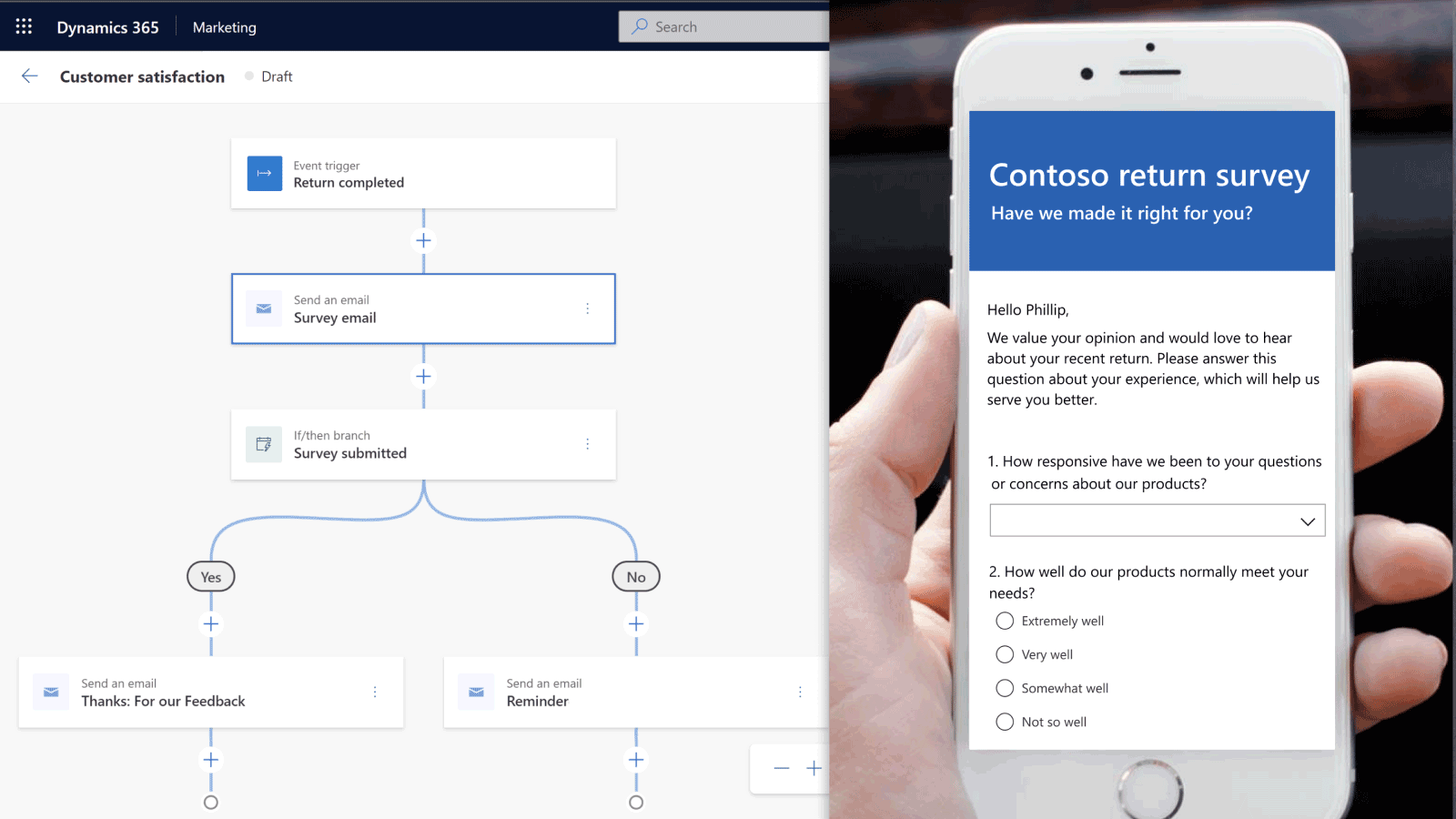 Elevate customer experiences
Orchestrate personalized journeys across all touchpoints to strengthen releastionships and earn loyalty
Whether agents are looking for more efficient ways to create cases or better ways to manage the case lifecycle, the case management tools in Microsoft Dynamics 365 can help them throughout the management process.

By planning, tracking, and analyzing cases, you can develop efficient resolutions that can be used for similar issues. For example, when customer service representatives or Human Resources generalists create cases, they can find information in knowledge articles to help them work more efficiently.

Businesses big and small are using Dynamics 365 for Customer Service by:
Track customer Issues through Cases.
Record all interactions related to a case.
Share information in the knowledge base.
Understanding a customer's interactions with your business
Create queues, and route cases to the right channels.
Create and track service levels through service level agreements (SLAs).
Define service terms through entitlements.
Manage performance and productivity through reports and dashboards.
Create and schedule services.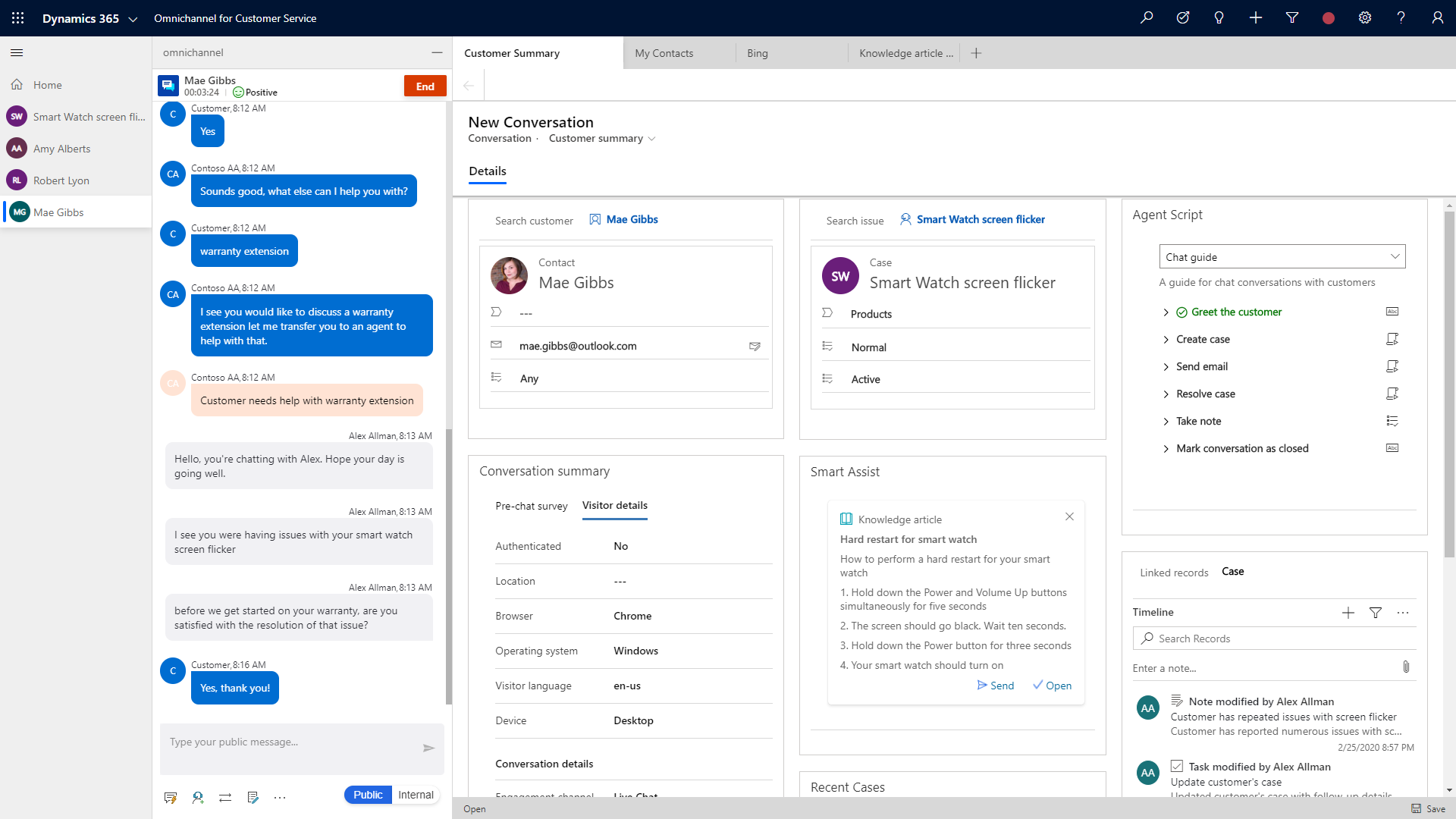 Dynamics 365 is a business model that allows multiple apps to work together seamlessly to provide cloud-based solutions for customers. All businesses have certain business needs, whether it's financials, reporting, different types of situations that come into there.

As a Microsoft Dynamics 365 partner, we help organisations take full advantage of the platform to optimise operations and help unify business applications. We support organisations of all sizes to get the most from Dynamics 365.

With drag and drop features we can help you tailor your Dynamics 365 to more closely fit your organization's industry, nomenclature, and unique business processes. You can implement many customizations without writing a single line of code.

Whether on-premises or Online, deploy Dynamics 365 with our time-tested consultants who have industry-leading expertise in custom Dynamics 365 consulting services. Handle your business need and leave the development, and implementation to us.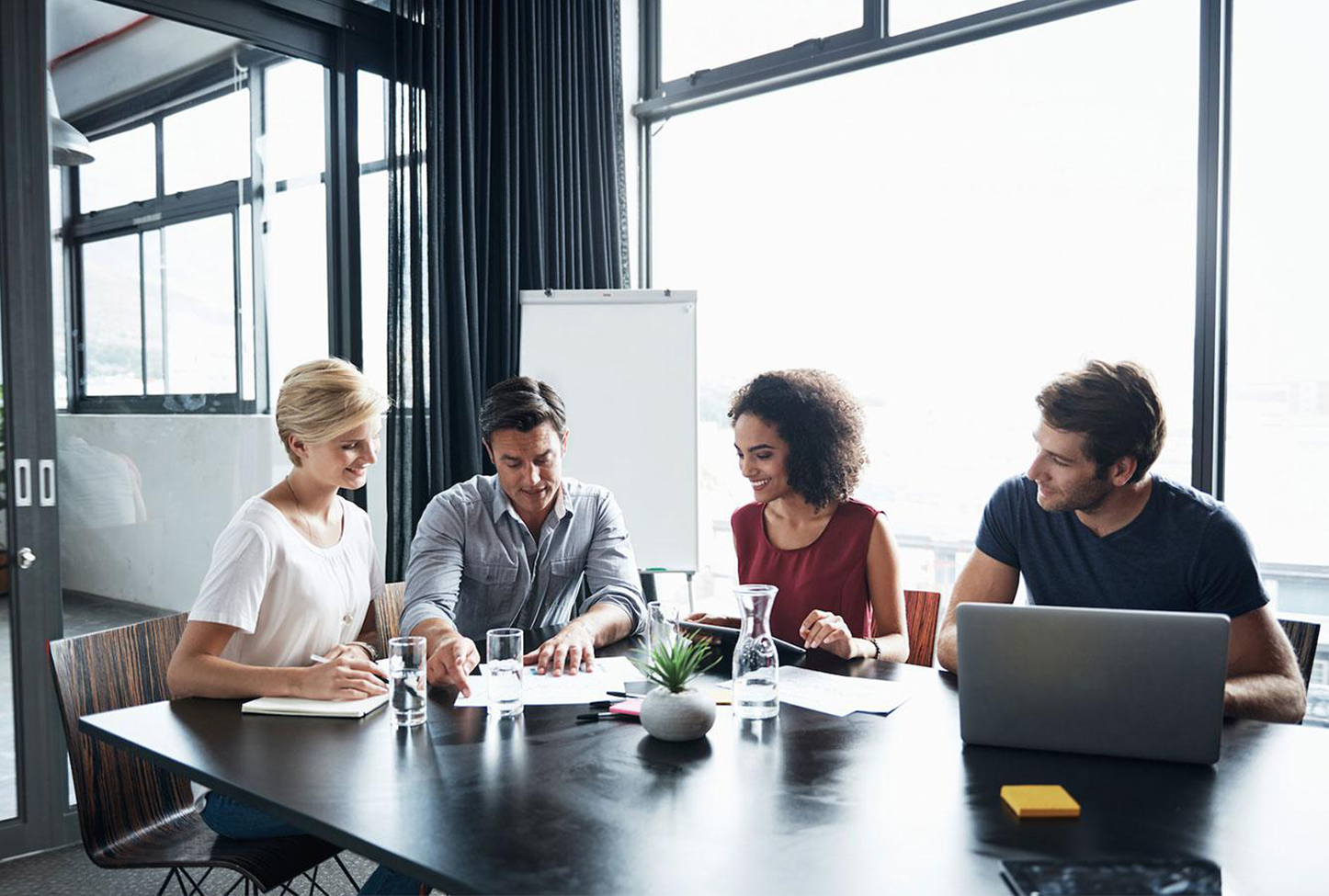 While the software has a lot to offer, you may want to add other tools to your environment to manage other areas of your sales and marketing process.

Or you may want to connect your CRM to the systems you use in other areas of your business like integation to Dynamics 365 B.C, F.O, or something else.

Dynamics 365 CRM offers a lot of flexibility and has our of box connectors and even web APIs that make integration to other solutions easy.

Every Dynamics 365 environment can easily integrate with other systems,software and apps from all major vendors to optimize data communicationsand transform your IT into a strategic asset.

If there's not a pre-built integration available through standard connectors, We recommend to take a look at Microsoft's AppSource or simply use Power Automate as a Intergration Platform.

As your IT implementation partner Techdio can help you build a custom integration for any solution you use—or would like to use—in running your business. We are Integration and migration partner in the Nordic region that has the unique combination of Elite partnership and MVP under same roof.